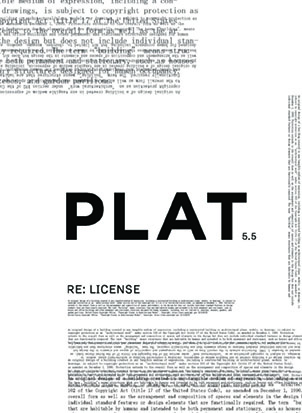 5.5 Re: License
Responding to the legacy of PLAT's half-issue format, Re: License is invigorated by the question "What does it mean to create discourse around and through a journal?" and serves as a direct response to its preceding issue, 5.0 License. Re: License presents a retrospective look on both License and the history of PLAT on a whole. In curating response, this issue capitalizes on conversation as a medium to capture response, reflecting the way in which Rice Architecture engages in the architectural discourse. Defining conversation as an uncertain, unknown, and incomplete activity, PLAT 5.5 treats License as an open conversation and continues it through capturing reaction, review, and judgment. The past editors returned to share their reflections on the process of making their issue; the contributors of 5.0 critiqued their varied interpretations of license and contemplated on the common threads of their submissions; and current faculty, students, and visitors at Rice discussed the topic and its tangents, such as authorship, copyright, influence, fakes, etc. further. PLAT 5.5 Re: License acts as a curator, mediator, and historian all at once.
Editor-in-Chief: Melis Ugurlu
Managing Editor: Rachel Grady
With contributions from Francis Aguillard, Gavin Brown, Galo Canizares, Hillary Davlin, Eli Keller, David Kennedy, Yu Kono, Lluís Juan Liñán, Andy Lockyer, Kalen McNamara, Ana Miljački, Benjamin Peek, David Rader, Dylan Rinda, Sam Stewart-Halevy, and NCARB Support.
Published Spring 2017.